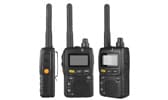 Looking for a walkie talkie rental NYC service? No matter the size of the venue, we have them in stock. From intimate events to corporate galas for Disney, we have provided industry standard walkie talkies rentals in NYC for over ten years (we have all radio and repeaters services). Our engineers have provided full assembly and onsite maintenance for indoor and outdoor corporate events throughout the greater New York area. Bolster your event with industry standard Motorola communications and other digital and analog portable radios!
Motorola CP200 Walkie Rental NYC

The CP200 4W UHF portable two-way radio offers increased communication flexibility with features such as push-to-talk ID and selective call. Powerful audio output penetrates noisy environments, providing clear, crisp audio at any volume. A lightweight, ergonomic design makes this radio comfortable to carry and operate. – See more at: http://www.lvrusa.com/product/motorola-cp200-walkie#sthash.ncc5qDoN.dpuf

Motorola Multi Charger for Walkies

Multi-Unit Charger, Length 14 In, Width 13 In, Height 2 In, Voltage 120, Charges Up To 6 Radios, Battery Pack Recharge Time 2 Hours Hr, For Use With CP200 Radio – See more at: http://www.lvrusa.com/product/motorola-multi-charger-for-walkies#sthash.hugfVCL5.dpuf

Telex BTR-800 4 Drop Wireless Intercom System Rental NYC

The Telex BTR-800 is a 2-channel, frequency-agile UHF wireless intercom Base Station, with channel access from each of four full-duplex beltpacks, stage announce output with relay closure, wireless talk around (ISO), the patented Enhanced ClearScan channel search feature, and a talk/listen headset station at the base.
The BTR-800 features a transparent graphical user interface and a backlit display, with advanced technology functions such as combination tone code/RF noise squelch and DSP digital audio processing.
This unit has an A4M Telex headset jack and works on E88: 590-608MHz Transmit/470-488MHz Receive frequencies.

Wireless UHF intercom Base Station with frequency agility, full-duplexing, and huge selection of available frequencies organized in independent 18MHz bands

Factory selected preset frequency groups, 1000′ operating range, Transmit power level switch

Independent front Portable Station enable/disable buttons with LED status indicators, Telex or RTS front panel 4-pin headset connector reads dynamic or electret headset boom mic type automatically

Enhanced ClearScan two-button frequency selection for optimal, interference- and intermodulation-free location use, ranks available frequencies in order of reliability

Simultaneous support of up to 4 beltpacks, expandable

Large backlit LCD, transparent, menu-driven Graphic User Interface for simplified navigation and assignment

Full function Talk/Listen headset station with dedicated headset and boom mic volume and gain controls ,allows for fifth simultaneous user(director, producer, engineer) on intercom channel

Compatibility with Audiocom, Clear-Com, RTS/RTS matrix wired and wireless intercoms, dedicated 2-wire XLE and 4-wire RJ-11 connectors

Dual Voltage power supply for international use, XLR balanced Auxiliary audio input and output connectivity
Not just Walkie Talkie rental NYC
We offer much more than a walkie talkie rental for our customers. We provide comprehensive audio equipment needs. Rent PA systems so everyone in the crowd can hear you. We have battery-operated speakers for rent that are perfect for outdoor locations. Record your event with our video recorder rentals. Whatever aspect of AV equipment rental you're looking for let IVS handle it.
Onsite Technicians
Not stopping at walkie talkie rentals for New York City, IVS strives to provide quality, affordable service no matter the size or conditions of your event. We send onsite technicians to your location for full assembly/disassembly as well as complete onsite maintenance. If you need someone to set your walkie-talkie rental or other digital and analog portable radios for security or staff radio communication, let us handle it!
Affordable Rental Prices
The average equipment rental service in NYC subrents their equipment. They rent the equipment from another company and then rent it to you for your event. Their approach raises the cost for you because the rental company has to earn the money to pay their rental fees and make a profit. Unlike them, we own most of our equipment and rent it to you at a fraction of the cost.
Our clients come to IVS for walkie talkie rental NYC and get so much more. We are a one-stop shop for AV equipment and event planning in NYC, and our customers quickly learn that. We've served the NYC area for a decade, let us serve your event today!
Fill out the form with event details and we'll contact you with the best offer!
Free Quote Request: