Sound System with Ipod dock and microphone rental in NYC
$150 Sound System and Microphone Combo Rental in New York City.
We offer stereo sound system 300W with 2 speakers stands, microphone and Ipod dock for $150 in New York City.
Samson Portable PA System 300W 
Stereo Sound System 300W with Ipod dock, Speakers Stands and Microphone Rental NYC $150
Samson XP308i Portable iPod PA System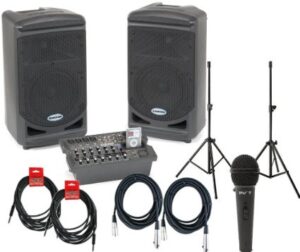 Product Highlights
— Pair of 2-Way Speakers
— 300W Class-D Amplifier
— 8-Channel Mixer
— Built-in iPod Dock
— XLR and 1/4″ Inputs
— Internal Effects Processor
Fill out the form with event details and we'll contact you with the best offer!
Free Quote Request: